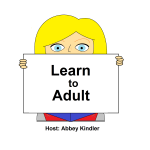 Episode 15: This week I talked with the awesome Avery (@littlesiha) from Twitch and Just Dance fame! She and I talk about her streaming, travels, and journey to where she is now!
Thanks again for chatting with me Avery! You can follow her in the following ways!
Twitch: twitch.tv/littlesiha
Twitter: @littlesiha
Any questions or comments on today's topic? Here is my contact info! I would love to hear from you!
Email: LearnToAdult@gmail.com
Twitter: @LearnToAdult
Facebook: facebook.com/learntoadultpodcast
Also check out the website www.learntoadult.com for the podcast, updates and general awesomeness!
Theme Music by Will Phillips