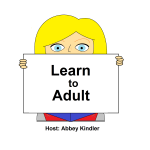 Hello and welcome back after an unexpected hiatus! Since it is one of my favorite holidays, I thought it would be fun to have a Halloween Special where we talk about Zombie Survival! We talk everything from securing a building to getting weapons! It's important to be prepared for anything, even zombies!
Happy Halloween, everyone!
Next episode will revolve around Thanksgiving so if you have any questions about that topic, please email me! I am all ears! As Tony Stark once famously said, "It's good to be back!"
Email: LearnToAdult@gmail.com
Twitter: @LearnToAdult
Facebook: facebook.com/learntoadultpodcast
Also check out the website www.learntoadult.com for the podcast, updates, and general awesomeness!
Theme Music by Will Phillips