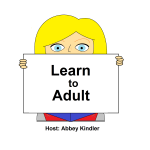 Episode 18: This week I chat with Justin about his career in social work. We cover how he got there, his background, and how his job lines up really well with lessons we all learn when we are #adulting!
Want to get a hold of Justin? Here is his Twitter account: https://twitter.com/brobrainscience
Other notable links:
Code of Social Work Ethics: http://www.socialworkers.org/pubs/code/code.asp
Classical Conditioning/Pavlov's Dog: https://en.wikipedia.org/wiki/Classical_conditioning
Any questions or comments on today's topic? Here is my contact info! I would love to hear from you!
Email: LearnToAdult@gmail.com
Twitter: @LearnToAdult
Facebook: facebook.com/learntoadultpodcast
Also check out the website www.learntoadult.com for the podcast, updates, and general awesomeness!
Theme Music by Will Phillips