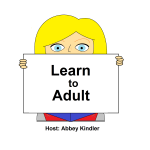 Episode 16: First off, apologies for the audio this week. It's not the worst but it isn't the best. Thanks for bearing with me this week! We are talking about changing tires on your car in an emergency and also some tire safety tips! This is Hashtag Adulting 101! So have a listen and learn all about our odd passion for tire safety.
Any questions or comments on today's topic? Here is my contact info! I would love to hear from you!
Email: LearnToAdult@gmail.com
Twitter: @LearnToAdult
Facebook: facebook.com/learntoadultpodcast
Also check out the website www.learntoadult.com for the podcast, updates and general awesomeness!
Theme Music by Will Phillips