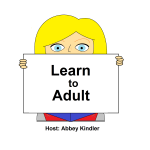 Episode 26: Alert! Mother's Day is coming up! At the very least remember to call your mom on Sunday to tell her you love her! Or celebrate the people in your life who are mothers. It is a versatile day!
Ideas for gifts: Amazon gift card, a fern, Lush bath bombs, manicures, free dinner, a visit from you, a planter full of herbs, new slippers, a Nintendo Switch, a card, hand made macaroni art, the ability to sleep in, etc.
Any questions or comments on today's topic? Here is my contact info! I would love to hear from you!
Email: LearnToAdult@gmail.com
Twitter: @LearnToAdult
Facebook: facebook.com/learntoadultpodcast
Also check out the website www.learntoadult.com for the podcast, updates, and general awesomeness!
Theme Music by Will Phillips