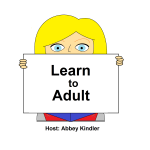 Episode 22: Back to the basics and I talk to you one on one in a short episode! This week is all about the wonders of spring cleaning! That wonderful time of year we all shine our chrome and polish the china. But where do you start and how to you do anything? Well, I give you a helpful list of ideas to start your spring cleaning journey.
Notable links:
Spring cleaning song from Rocko's Modern Life!! https://www.youtube.com/watch?v=JjuF_wiOds0
The big list of things to clean! It's long and extensive. (Challenge accepted!) http://idreamofclean.net/the-ultimate-spring-cleaning-checklist/
Disinfecting mop heads and sponges! http://lifehacker.com/5381364/disinfect-mops-and-sponges-to-flu-proof-your-home
Where to find a carpet cleaner: https://www.rugdoctor.com/rent-location
Dusting tips: http://www.goodhousekeeping.com/home/cleaning/tips/a24221/get-rid-of-dust/
Any questions or comments on today's topic? Here is my contact info! I would love to hear from you!
Email: LearnToAdult@gmail.com
Twitter: @LearnToAdult
Facebook: facebook.com/learntoadultpodcast
Also check out the website www.learntoadult.com for the podcast, updates, and general awesomeness!
Theme Music by Will Phillips