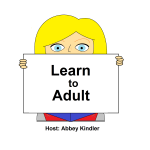 Episode 23: One of my biggest things to preach to anyone who will listen is the value of sunscreen and protecting your skin. Since the weather is turning around and we are all heading outside, I thought I would throw a quick sermon on sunscreen! Oh joy!
Notable links:
Mary Schmich's excellent article:  http://www.chicagotribune.com/news/columnists/chi-schmich-sunscreen-column-column.html
"Everyone is Free to Wear Sunscreen" by Baz Luhrmann:  https://www.youtube.com/watch?v=sTJ7AzBIJoI
Information on sunscreen and UV rays: http://www.skincancer.org/prevention/sun-protection/sunscreen
Skincare Subreddit: https://www.reddit.com/r/SkincareAddiction/
Any questions or comments on today's topic? Here is my contact info! I would love to hear from you!
Email: LearnToAdult@gmail.com
Twitter: @LearnToAdult
Facebook: facebook.com/learntoadultpodcast
Also check out the website www.learntoadult.com for the podcast, updates, and general awesomeness!
Theme Music by Will Phillips