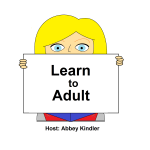 Episode 20: This week Tyson and I chat about the awesomeness of networking! What is networking? It is the social tool to help further your career/business! It is a great skill to have and unfortunately one you are either born being good at (like Tyson…) or need to practice forever (like me!). So this week we talk fundamentals and next week we will chat about how to present yourself!
Thanks for sticking with me! Episode 20!! YAY! Also This was done on my shiny new Zoom recorder. Still need to work on the audio but it sounds SO much better than the first talk Tyson and I had (Tire Episode)
Any questions or comments on today's topic? Here is my contact info! I would love to hear from you!
Email: LearnToAdult@gmail.com
Twitter: @LearnToAdult
Facebook: facebook.com/learntoadultpodcast
Also check out the website www.learntoadult.com for the podcast, updates, and general awesomeness!
Theme Music by Will Phillips