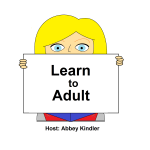 Episode 19: This week I chat with Remi about the wonders of meal prep! We talk about how to get started, tips for starting, and one weird tangent about Brussels sprouts!
Notable links mentioned in the podcast:
Reddit Meal Prep Sub: https://www.reddit.com/r/MealPrepSunday/
Jamie Oliver's Smoothie Pancakes: https://www.buzzfeed.com/christinebyrne/jamie-oliver-blueberry-pancakes?utm_term=.qqyRLn7k5#.hdQ0RbmLy
PB&J Bites: http://www.wholefoodsmarket.com/recipe/pbj-bites
Any questions or comments on today's topic? Here is my contact info! I would love to hear from you!
Email: LearnToAdult@gmail.com
Twitter: @LearnToAdult
Facebook: facebook.com/learntoadultpodcast
Also check out the website www.learntoadult.com for the podcast, updates, and general awesomeness!
Theme Music by Will Phillips