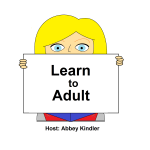 Episode 13: Cooking may be one of the hardest and easiest things out there to do as an adult. You can't escape it, you have to eat! Cooking your own food is cheaper and usually healthier. But how? Where do you start? This week I interview Jonathan, a professional cook. This week we discuss the tools you should have in your kitchen. Next week he talks about meals you can cook and how to put them together so be sure to subscribe!
Thanks for everything Jonathan!!
Jonathan also has a podcast with his brother. Be sure to check it out: Sons of the Renaissance
Any questions or comments on today's topic? Here is my contact info! I would love to hear from you!
Email: LearnToAdult@gmail.com
Twitter & Instagram: @LearnToAdult
Also check out the website www.learntoadult.com for the podcast, updates and general awesomeness!
Theme Music by Will Phillips