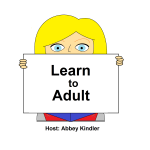 Episode 10: The episode in which I playfully lecture you about the importance of saving things. From backing up your digital data or just having a common space for your important IRL documents! Save all the things!
Also, woo double digit episodes!! High fives for everyone!
Any questions or comments on today's topic? Here is my contact info! I would love to hear from you!
Email: LearnToAdult@gmail.com
Twitter & Instagram: @LearnToAdult
Pinterest: https://www.pinterest.com/learntoadult/
Also check out the website, www.learntoadult.com for the podcast, updates and general awesomeness!
Theme Music by Will Phillips
Background music: "You Like It" from the YouTube Audio Library