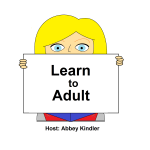 Episode 9: How to start grocery shopping! It's tough to get out there and shop for yourself so I put together a quick guide to getting it done! Grocery shopping is an art that must be honed! Also, email me if you can count how many times I say "so" in the outro. First person to email me gets their name mentioned in the next episode!
Any questions or comments on today's topic? Here is my contact info! I would love to hear from you!
Email: LearnToAdult@gmail.com
Twitter & Instagram: @LearnToAdult
Also check out the website, www.learntoadult.com for the podcast, updates and general awesomeness!
Theme Music by Will Phillips
(Wow, I have typed "grocery" so many times it has stopped seeming like a real word.)